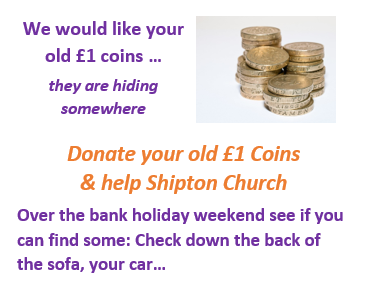 A Pound for St Mary's
The programme of events to raise money for St Mary's Church will be announced soon, but here is a simple way you can help right now, from the comfort of your sofa.
There are apparently some £130m old £1 coins still in circulation, that can't be used. We probably all have some at home (check the back of the sofa) and in our cars but can't do anything with them. They are not legal tender in shops etc. but can be paid into a bank account and returned to the Royal Mint.
So the hunt is on! See how many you and your family can find
You can either leave them in the special old £1 coin collection box in Shipton church or post them through the Vicar's letterbox in Shipton.
There's no need to stop at £1 coins – if you have any notes that are out of date please bring them along too! Good luck – and thank you.
OVER THE BANK HOLIDAY WE ARE ASKING SCHOOL TO GET INVOLVED. WE'LL BE COLLECTING AT DROP OFF ON TUESDAY 4 MAY SO BRING YOUR COINS IN THEN!
To see progress on the works in Shipton church visit: https://wychwoodbenefice.org.uk/parishes/shipton-under-wychwood/
St Mary's Fundraising Group