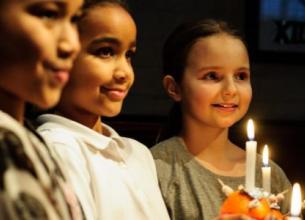 Here is an overview of the services in the Wychwood Benefice this Christmas time.
Christingle
is a wonderful service where we retell the Christmas story and where we remember all the wonderful things we have. It is also an opportunity to give to children who do not have as much as us through the work of the Children's Society. 
The Children's Society
The first Christingle Service is in Fifield Church on Sunday 13 December at 11am.
There are two Christingle Services on Christmas Eve at 4pm: Come along to Shipton or Milton church dressed up in Nativity costumes for some singing, acting, storytelling and fun.
 You might want to come along to make the Christingles too! 23rd December at 10am in the Benefice Centre – it's always lots of fun, with very sticky fingers.
Carols by Candlelight
Thursday 17 December
7.00pm Carols by Candlelight Fifield
Sunday 20 December
4.00pm Carols by Candlelight Idbury
5.00pm  Carols by Candlelight Milton
6.00pm  Nine Lessons and Carols by Candlelight Shipton
Christmas Eve Thursday 24 December
11.00pm Midnight Communion Fifield
11.00pm Midnight Communion Milton
Christmas Day Friday 25 December
9.30am Christmas Communion Milton
11.00am Christmas Communion Idbury
11.00am Christmas Communion Shipto
Click on the link below or scroll down for a list of services in the Benefice this Christmas Season.