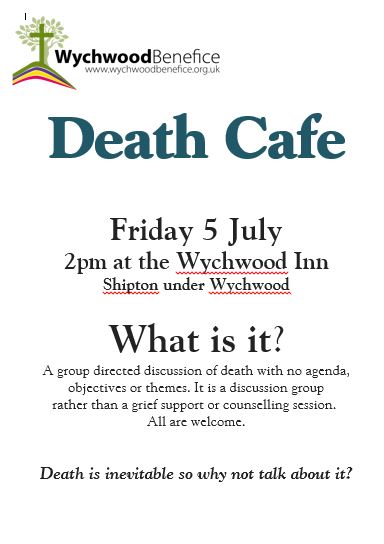 After the success of our first Death Cafe last month we are hosting our next Death Cafe in the pub. Do join us on Friday 5 July 2-3pm in the Wychwood Inn for some lively conversation.
If you are not sure what it's all about, here are just a few of the things that came up at the last Death Cafe:
I really must update my will.
I have all these ideas for my funeral including lots of song choices. What do I do with them and who do I tell?
What do you say to children if a sibling died before they were born?
Would you prefer to be buried or cremated?
What do you think actually happens at the moment of death?
The sorts of things you can do at a funeral nowadays – ways to make it personal.
And here's the blurb:
What is Death Café?
At a Death Cafe people meet to discuss death, over some refreshments, most people who attend a Death Café are surprised that the discussion is not morbid or depressing but often lively, and informative. As one person put it: Death is inevitable so why not talk about it.
A Death Cafe is a group directed discussion of death with no agenda, objectives or themes. It is a discussion group rather than a grief support or counselling session.
Death Café is offered:
– In an accessible, respectful and confidential space
– With no intention of leading people to any conclusion, product or course of action
– Alongside refreshing drinks – and cake!