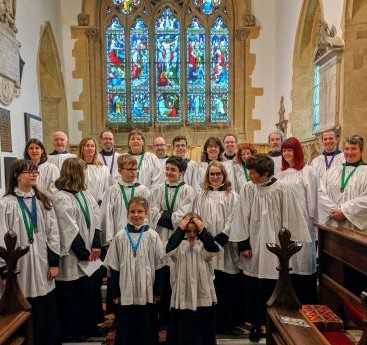 After the pandemic revealed singing to be a surprisingly hazardous activity, Shipton choir continues to gradually find its way forward as best it can.  From March, we are hoping to resume Choral Evensong services every other month, and the choir will also be joining Milton United Benefice services in the months where it is not singing evensong. There are a couple of weekend trips to sing elsewhere planned: a trip to Worcester Cathedral in April (the choir last sang at Worcester in February 2020, when the biggest worries on the horizon were flooding and bush fires) and one to Southwell Minster in May.
We've missed out on a couple of years of recruiting new members for Shipton choir, so would very much welcome more.  The only commitment is on a Sunday morning – most church choirs have mid-week rehearsals, but Shipton choir doesn't, which makes the quality of their singing all the more remarkable!  Sunday morning times are usually: 9:45am junior choir; 10:15am full choir; 11am service.
Because of the lack of rehearsal time, it is helpful if adults have some music-reading ability, but there's no such requirement for children in the choir, who can join from the age of 7.  If you'd like to know any more, please contact Bernard ([email protected]/01451 824169) or come and have a chat with one of the choir on a Sunday.  And if you don't feel able to join the choir, do help support them by singing enthusiastically from the pews on a Sunday.
The next Choral Evensong is on Sunday 20 March 6pm in Shipton Church. Why not come along….