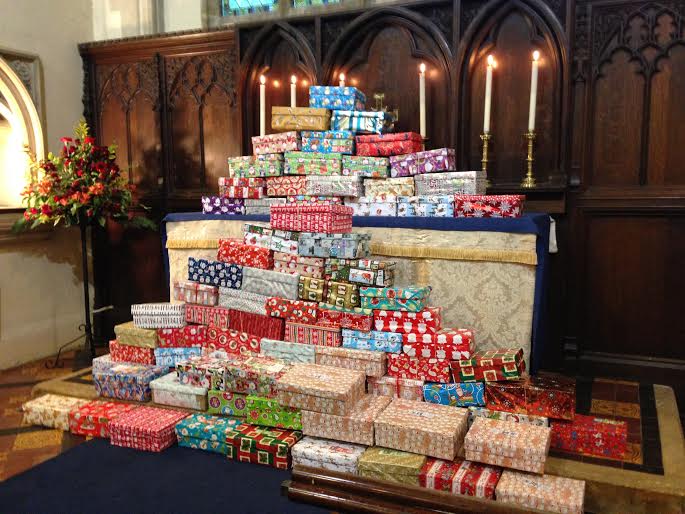 A GREAT BIG THANK YOU!
Yes we did it!    We had 120 shoe boxes dedicated in Milton Parish Church this year!
This is our third year and year on year we are increasing the gift of our love to those who have little.   This year our boxes are going to Eastern Europe including Romania.
This year too we had the opportunity not only to give to the girls and boys; we were able to do a shoe box for a home and family, giving useful things to use in household.
This year was truly a community effort, with shoeboxes coming from Wychwood CE Primary School, members of the W.I. and the Day Centre too.
The shoe boxes started their journey on Tuesday 22 November.   We met Paul from Teams4U at the church with his big white van.   Despite the fact it was pouring with rain as we moved the boxes from the church to the van, there was certainly joy in our hearts knowing that somewhere out there a child or family was going to know the love of Christmas and that someone had taken such thought and care to choose the contents of their box.   Next year we will have a film showing your fantastic gifts being received…..I am so looking forward to seeing the happiness!
A great big THANK YOU to all who donated the wonderful gift of a shoe box, and to those who couldn't do a shoe box but gave the gift of a cash donation.   We are truly grateful.
Wishing you all a Joyful Christmas and a  Peaceful and Prosperous New Year