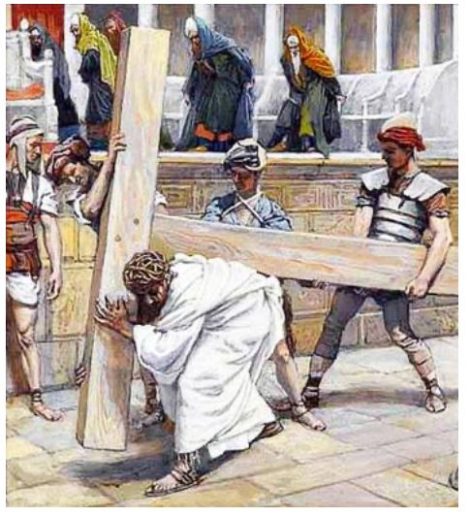 Jesus takes up his cross
Jesus said: Whoever does not carry his own cross and come after me, cannot be my disciple.
Matthew 16:24
And he said: Bless those who persecute you and pray for those who ill treat you. Luke 6:28
Jesus, as you accepted your cross, you knew you would carry it to your death on Calvary. You knew it wouldn't be easy, but you accepted it and carried it just the same.
As a child, sometimes we don't like the problems that come our way. Sometimes we try to get others to take care of them or solve them for us. Sometimes we become upset and crabby when asked to do even the smallest thing to help others.
As an adult we sometimes feel like we are not appreciated. Sometimes we feel as if we have to accept more responsibility that we need. We can feel sorry for ourselves, even though the crosses others carry are much larger than our own. In our own self-pity, we don't reach out to help.
We confess Lord, that we find your words very hard. We do not want to carry the cross. We can rarely bring ourselves to bless those who make our life difficult. Give us the strength to grow in your likeness, that we may learn to triumph over the wrong in others, and in ourselves, with love.
We pray for the people we know who carry heavy crosses, for those able to forgive and accept, and those who want to curse. May your blessing reach out to them.
Lord, in your mercy: Hear our prayer.