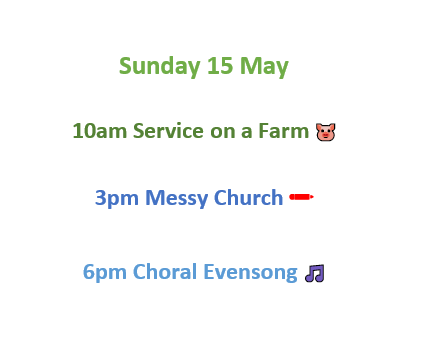 On Sunday there is plenty going on!
Rogation on Sunday 15 May at 10am, Manor Farm, Upper Milton, Milton under Wychwood, OX76EX.
The entrance will be signposted off New Road. Disabled parking and access is available. We'll start at 10am with a Communion service in the barn. Seating will be on chairs but a warm rug might be a good idea if it's a cold day. The service will include a talk on farming from one of the Hartleys, and activities for children. After refreshments there will be guided tours of the pigs and a short farm walk to look at some of the crops. Suitable footwear advised! All welcome. Donations of cakes /biscuits also much appreciated.
Messy Church in Milton Church on Sunday 15 May from 3pm-5pm. An afternoon for all the family regardless of age: activities, crafts, bible reading, songs and a shared tea.
Choral Evensong Fifield Church 6pm
This is a beautiful service that follows a timeless structure of psalms, readings, hymns and prayers, using the traditional words of the Book of Common Prayer. The service is sung by our church choir with congregational hymns and an address. Followed by refreshments.